Ek lê in die veld op 'n plaas tussen Fraserburg en Loxton. Het maar 'n randjie uitgesoek sodat ek kan lê want die bossies is net hoog genoeg om lasting te wees as ek in die vlakte lê . Boonop is ek en sitskiet nie die grootste pêlle nie. Nie met my lyf nie. Elke keer as ek skuif, druk die skepste klip in die kontrei erens in my murg in. Doen die soort skietery al baie jare en 'n man raak seker maar gewoond aan die ongemak, of hoe?
Nie vandag nie. Vanoggend toe ons klomp opstaan is die wereld wit geryp. Van daai koue wat deurdring tot in jou binneste. Alles is styf en elke keer as ek beweeg, dan druk daar 'n verdomde klip op 'n plek wat tot op hede ongeteister was.
Ai, om oud te word is nie vir sissies nie. My gedagtes dwaal. Word net kort kort in die rede geval deur 'n skerp klip of doringkie. Hoekom myself so treiter? Daar moet 'n beter, meer gemaklike manier wees om so 'n voorsit skiet te doen.
Die trippie kom tot 'n einde. Die saadjie is geplant. Ek soek 'n skietstoel. Kyk rond op die forum, daar is niks wat my opgewonde maak nie.
So begin ek en Heinz Petersen te gesels oor stoele en nog meer. Hy bly nie te ver van my af nie. Heinz is 'n man wat raakvat en het al met baie oulike apparaat te voorskyn gekom, alles te doen met die skiet wereld. Hy sê ek moet bietjie loer na sy stoel wat hy bou, seker al die hoeveelste prototipe, elke keer is daar 'n verbetering aan die ontwerp. Ek bekyk die stoel en noem so 'n paar veranderings wat ek graag wil hê om die stoel gemakliker vir my te maak soos langer pote, want hy is net te laag vir my om uit op te staan sonder 'n groot gesukkel. Hy is egter besig om reg te maak vir 'n oestery en ek sê ons moet weer gesels as hy terug is.
'n Week of so later bel Heinz my. "Jou stoel is klaar" Ek is oorbluf en gaan haal die stoel . 'n Paar dae later is ek met die stoel weg na 'n skietplek.
Op 300m hang daar 'n vierkantige staal plaat, 200mm x 200mm. 2 Skote op die plaat (blink merkies, ander 2 is 308) net onder 2 duim: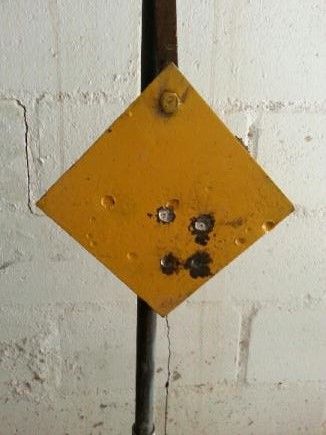 Nou kyk, dit is nie 'n bench rest setup nie, maar hy is so na aan soos demmit aan 'n vloekwoord. Ek is baie in my skik met die stoel.Is oortuig dat groepe nog gaan verbeter soos ek en my stoel mekaar beter leer ken.
Ek dink onwillekeurig aan NP van Wyk Louw se woorde :
" 'n Beitel moet klip kan breek, as hy 'n beitel is"
So lyk Heinz se stoel: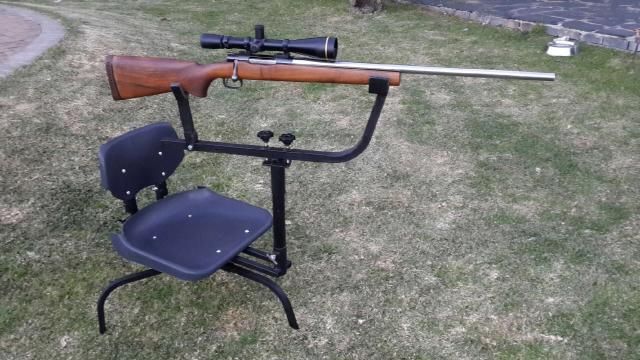 Hy vou lekker plat op: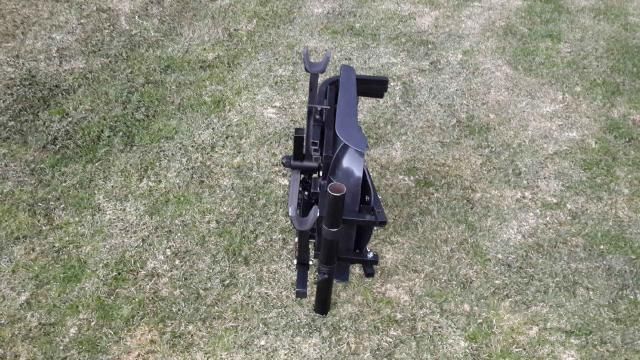 Hier is myne met sy modifikasies:
Ek gaan nog 'n belt vasmaak aan hom vir oor die skouer dra as ek veld instap.
Baie dankie Heinz, jy kan maar skietstoel maak, hoor!